Tomato Plants
* Standard Varieties: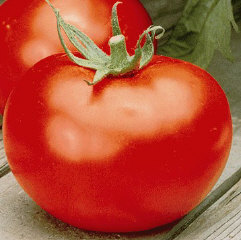 BETTER BOY - (Indeterminate, f1 Hybrid) Excellent disease resistance and extra large fruit (up to 16 oz.) make this a winner!
BIG BEEF - (AAS Winner, Indeterminate, f1 Hybrid) Good flavor, good size, great yield and wonderful disease resistance combine to make this variety one of the best yet!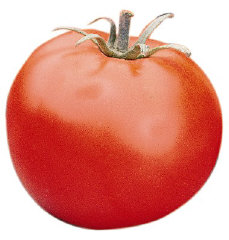 CELEBRITY - (AAS Winner, Determinate, f1 Hybrid) This award-winner has been the standard for tomatoes for many years. This is the most asked-for variety of all. Fruit has great taste and good size. Plant is very disease resistant.
CREOLE - (Heirloom, Indeterminate, Open Pollinated) The same flavorful variety your (great) grandfather grew! A long-time favorite.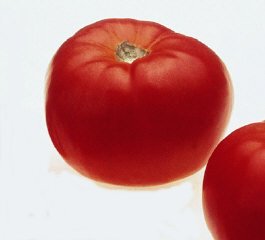 EARLY GIRL - (Indeterminate, f1 Hybrid) Produces good size (6 oz.) fruit very early!
MURIAL (Roma, Indeterminate, f1 Hybrid, Heat Set) Possibly the best Roma variety available! Heavy fruit set, tremendous disease resistance and excellent resistance to heat.





* Cherry Varieties:

JULIET - (AAS Winner, Grape Type, Indeterminate, f1 Hybrid, Heat Set) Holds well on the vine without cracking. Bears like clusters of grapes on a vine. Excellent disease resistance.
SMALL FRY - (AAS Winner, Indeterminate, f1 Hybrid, Heat Set) An oldie but still goodie variety. Bears tons of 1 inch cherry tomatoes which keep bearing well into the summer months.
SWEET MILLION - (AAS Winner, Indeterminate, f1 Hybrid, Heat Set) Matures early and continues bearing well into the summer. Disease resistant vine bears super-sweet fruit.
Pepper Plants
* Sweet Bell Pepper Varieties:

KING ARTHUR (Large Green to Red Bell, f1 Hybrid) One of the best 'green to bright red' varieties for home garden production. Good fruit size and early maturity along with excellent disease resistance make this a winner! Formerly known as Fat N' Sassy.
SUPER HEAVYWEIGHT (Huge Green to Light Yellow Bell, AAS Winner, f1 Hybrid) A great variety with enormous fruits that are thick walled, blocky, and marvelously sweet and crunchy in texture. Great for home garden. Excellent for stuffing!



*Non Bell Sweet Pepper Varieties:

CARMEN (Green to Red, AAS Winner, f1 Hybrid) Disease resistant, bushy plant produces 6" long by 2 1/2" wide fruits with a delightful flavor that are noticeably sweeter than other varieties, raw or cooked. Great yields, widely adaptable and easy to grow.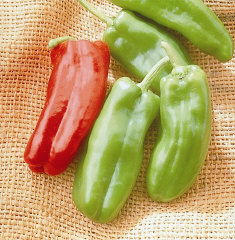 GIANT MARCONI (Green to Red, AAS Winner, f1 Hybrid) Large, tapered and elongated fruits grow up to 8" long and 3" long at the upper end. Sweet, yet smoky flavor is equally delectable when fruits are eaten green or red, fresh or grilled. Produces larger than normal crops anywhere.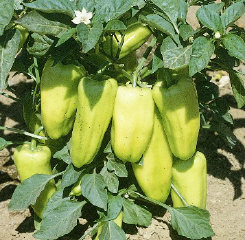 GYPSY (Green to Yellow, AAS Winner, f1 Hybrid) Vigorous, 18" tall plants bear light yellow, wedge-shaped, sweet and tasty fruits all season long. Early and heavy producing plant is highly resistant to tobacco mosaic virus.
SWEET BANANA (AAS Winner, Open Pollinated) This venerable variety is still extremely popular because it bears batches of long, yellow, and sweet fruit that turns red at maturity.





* Hot Pepper Varieties:

CAJUN BELLE - (f1 Hybrid, AAS Winner) Fruit is mildly spicy but still sweet, making it the perfect choice to add zing to salsas, salads and stir-fry dishes. Plants reach 24 inches in width and height, producing good yields of firm-walled fruits that average 3 1/2" at maturity.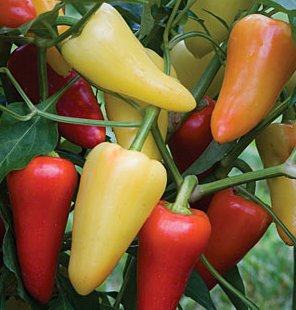 MARIACHI - (f1 Hybrid, AAS Winner) One of the best chili peppers available. Great taste, but not too hot. Bears early and heavily. Excellent disease resistance. 4 inch peppers mature from green to yellow to red, and may be picked yellow with no loss of flavor or heat.
IXTAPA JALAPEÑO (f1 Hybrid) This jumbo sized, 4 1/2" long by 1 1/2" in diameter, Jalapeño pepper combines large fruit size with early maturity. Plant yields are usually well above average with plants producing pungent, deep green fruit.
HUNGARIAN WAX (Open Pollinated, Hot Banana) Don't be fooled. Hungarian Wax has the same appearance as a sweet banana pepper. But it's hotter than, a jalapeño and very tasty!
CAYENNE (Large Thick, Open Pollinated)
TABASCO (Open Pollinated)
HABENERO (Open pollinated, Very Hot!)
Eggplant Plants

*Hybrid Eggplant Varieties

ICHIBAN (Japanese Long Black, f1 Hybrid) Bushy plants produce high yields of high quality 9" long by 1 1/2" wide dark purple fruits, which are so dark that they appear almost black in color. The skin is thin and the flavor is sweet and mild.?
FAIRY TALE (Dwarf Purple/Pink w/stripes, f1 Hybrid) Plants 18-24", are smaller than typical varieties, yet set fruits two weeks earlier! Plants produce clusters of elongated fruits marked by white stripes. Pick when 4' long by 1 3/4" across for sweet, bitter-free, nearly seedless eating.
NADIA (Classic Italian, f1 Hybrid) Plant produces good yields of 9" long glossy, dark purple eggplants. This outstanding hybrid variety is firm and flavorful. Plant has excellent vigor and great disease resistance.





* Open Pollinated Eggplant Varieties:

GREEN EGGPLANT (Round Green, Heirloom) This heirloom variety produces fruit with subtle eggplant taste without the persistent bitterness that turns many people off from eggplants in general. Plant produces delicate, light green fruits and still holds its own against many of the super-hybrid varieties now on the market.
ROSA BIANCA (Pink Eggplant, Heirloom) Strong 30" tall plants produce 5-8" roundish shaped fruits with stunning, light pinkish violet with occasional creamy white shading. This Italian heirloom variety is prized by gourmet chefs for its incredible delicate, non-bitter flavors.