Bougainvillea Growing Guide
The most frequently asked question people ask about Bougainvillea is: "What can I do to get my plant to bloom like it was when I bought it?"
In our climate zone (lower zone 8), Bougainvillea bloom best if grown in pots and located where the roots cannot grow out the pots into the ground. If the roots are kept restricted the plant will bloom well though it is still relatively small. If the pot is directly in contact with the ground or buried partly in the ground the vigorous roots can grow into the ground and then the plant will cease blooming. Bougainvillea can be kept indefinitely in 12" to 16" pots.

Bougainvilleas prefer heat and plenty of sun. Grow in mostly sunny location. Six hours per day of direct sunlight is necessary for good blooming. Shelter from high winds. Freezing temperatures in the winter will damage or kill plants.


Bougainvillea can be occasionally pruned lightly after a bloom cycle. Light pinching or pruning usually results in a compact plant, which will grow faster and bloom again sooner. Prune just above a leaf joint, leave no stubs. You can prune your plant quite severely for winter storage. (See suggestions for winter storage at the end of this article.)

Bougainvillea should be fertilized at least once every six weeks or after each bloom cycle or after pruning. Potassium nitrate type fertilizers usually force more blooms. Use of soluble liquid (20-20-20 or 20-10-20) fertilizers requires more frequent fertilizing (at least once a week). A good slow release or timed release granular (like 18-6-12 Osmocote) works well, with the added advantage that you won't need to use it so often.

Watering: (Very Important!)
Bougainvillea should be kept evenly moist. The soil should be allowed to dry somewhat between waterings. Do NOT keep soil soggy. Slight wilting does not harm plants, but do not allow plants to wilt severely. When the plant is dry be sure to water well allowing some to come out of the drainage holes of the pot.


Bougainvillea roots grow fast but they are brittle. Until the plant becomes established the roots do not hold the soil together very well. Be careful to keep the root ball intact when transplanting. There is no need to wound or spread the roots when repotting.

Aphids and worms are the major pests of Bougainvillea. Orthene or Thiodan mixed with a small amount of liquid dishwashing soap as a spreader/sticker controls both.

Disease problems are rare with Bougainvillea. Root rot can be a problem if the roots are kept too wet and not allowed to dry somewhat between waterings. Bougainvillea plants are notorious for dropping faded flower bracts and even some old leaves. This is normal so place your plant in a spot where the debris will not get into pools or make a mess where you don't want it.

Not all Bougainvilleas are created equal. Our varieties have been selected for good growing and blooming characteristics. They are: Delight (Red), Pacific Sunset Gold (Orange shading to pink), Elizabeth Angus (Purple), Imperial (Pink shading to white) and Mauna Kea (White)


Some varieties of Bougainvillea bloom best during the short days of late fall, winter, and spring. Others are nearly ever-blooming. If a plant stops blooming prune it back and fertilize. Remember, they need plenty of sunshine!

Mature Bougainvilleas that are growing well are almost constantly in bloom as long as temperatures are warm enough to promote growth. So enjoy!

Notes on winter storage: If you have a heated greenhouse that is the best place to put your bougainvillea for the winter. Set your thermostat at 38 degrees F or above. Be sure to check your plants in the greenhouse regularly since it will get very hot in there on sunny days even if it's cold outside. It may be necessary to open the door a bit and maybe even a vent to let the excess heat out on sunny winter days.

As I mentioned above you may prune your bougainvillea severely when you put it away for the winter to save space. Don't be surprised to see your plants grow and bloom after a while if you don't have your greenhouse heavily shaded. You may need to water it occasionally. Just as in the summer, when it dries out, water it well. Don't bother to fertilize it during the winter – wait until the weather warms a bit. Start fertilizing again in mid to late March at the earliest.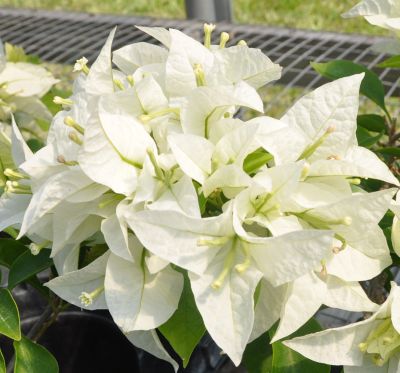 If you don't have a greenhouse you can store your plant anywhere where the nighttime temperatures don't fall below freezing. Try to find a place where there is at least some light. You really don't want to store it in a closet. Even then you may need to water your plant every now and then. Don't let it dry completely nor keep it soggy.

In the spring, when the temperatures start to rise place your plant back outside in the sun. Watch the weather forecasts – if a late freeze is forecast bring your plant back in for the night and put it back out the following day.

If you stored your plant in a place where the light was low the leaves may exhibit some burning and scorching from the sun. Don't be concerned about that and don't water it more often than usual. As the outside temperature rises the damaged leaves will fall and healthy new ones will replace them as long as you fertilize and water your plant properly.


You may be astounded that a plant can provide so much concentrated color if you follow these simple steps. Happy growing!
What to do with Roses in the Summer
Those Rose bushes you bought in the Spring with those big beautiful blooms are producing fewer and smaller roses than they were just a couple of months ago. You may start thinking you bought miniature roses without knowing it. What do you do?
First of all go out and inspect the plants closely. Do it later in the evening when it's not so hot and you will be sure to take time to get a good look. Check the leaves closely for bugs. You may need a magnifying glass to see the little ones if they're present.

Tiny Spider Mites are a big problem in the hot weather. If your roses are not doing so well and you've done everything else you can think of, mites may be present. If so try this first; get your hose and blast them off with a strong stream of water. Do that every day for three or four days in a row. You'll only lose a few leaves - most of them bad anyway.
If your plants are still poorly you will need a miticide (an insecticide specifically for mites). Before you go to the store, check your shelves. Malathion is somewhat effective - try that before you spend more money. If that doesn't work go to the store and read the labels before you make your purchase. You'll want to get the best broad spectrum product available.
Remember that most of the granular insecticides work only as a preventive measure. Once you have bugs you will need to spray to eliminate them - probably two or three times or more – once a week for two or three weeks in a row.
Once you get control of the mites be sure to water your plants well during those hot dry days. When the rose bed is dry soak the roots well - let the hose run slowly (any time of the day) into your rose bed until it's well watered while you sit and have a cold glass of tea (or a beer). Overhead watering of roses is not recommended, especially late in the evening.
Don't neglect your spray schedule for disease while all of this is going on. Even in hot weather it is a good idea to spray fungicide for black spot and powdery mildew, even on shrub roses. They may be resistant but they're not immune. While you were spraying fungicide once every week or ten days when the weather was cooler, now you can usually drop back to once a month for this task when it's hot.
Also don't forget that roses are heavy feeders. Roses require more frequent fertilizing than most other blooming plants - at least once every four to six weeks with granular fertilizer. If you've been using a soluble liquid fertilizer (Miracle Gro or equivalent) you should use it every other time you water. Do the math and figure what's more cost efficient. Whatever you use, don't let them go hungry. Nearly any good rose food or all-purpose slow release fertilizer is sufficient.
If you keep the bugs off your bushes and keep them watered and fed you will be rewarded with gobs of blooms and healthy green bushes.
No, the individual roses still won't be as large as they were in the spring, but they will be much nicer than they were before you applied a little TLC.
Note: In Mid September. If you trim your plants just a little harder than you have been doing all late spring and summer and then fertilize well you will be rewarded with a very good fall bloom – almost as nice as the first bloom of the spring.
Free Anti-Virus Software for the PC
Gary Marmillion, Sr. 225-294-3683
Gary Marmillion, Jr. 985-507-3935
As you may have noticed, we have another small business at the nursery that has nothing to do with plants. We work on PCs: specifically we specialize in virus/malware removal and wireless networking. Since you're reading this on your computer you may have a small interest in keeping your PC running smoothly. So here's a suggestion to help in that regard.
When you bought your Windows PC, along with it was an OEM (pre-installed) security program from Symantec (Norton), Trend Micro or some other company. After a certain period of time you will need to renew the paid subscription for this software for it to continue protecting your PC from virus/malware attacks that are so prevalent on the internet. If you don't pay the renewal fee the software will quit working soon after the subscription runs out. Your PC will then be wide open to attack from any virus on the internet if you are so unlucky to surf a web page where one is embedded or download any file in which one is present.
Malware can, in extreme cases, render your PC unusable. However even mild attacks can be very irritating, such as redirecting your browser (Internet Explorer, Firefox, etc.) to download unwanted internet pages and even unwanted software.
So what can you do besides paying the renewal subscription for this vital antivirus software? You can download and install a free antivirus program. Yes, free, you'll never need to pay for it and it will protect your PC just as well as the ones you have to pay for.
What's the catch? Quality is not free, right? You're correct to a certain extent. The software vendors that offer these free versions of their anti-virus software also sell paid-for versions and make every offer they can think of to get you to switch to them at every renewal period. However you are under no obligation to pay as long as they continue to offer a free version. These companies have been offering their software freely for years so it's not likely they'll change now.
Yes, you will get a few more features with a paid version. These features sound good and even essential in some cases, but I have been running free antivirus software for over ten years without any successful attacks on my PCs. Your secure connections (https) will stay secure as longs as you are running the latest browser version and Windows itself is kept updated. (More on that in my next article.)
If you need to renew your anti-virus software subscription and are tired of paying then go to CNET's download.com and download a free software package. There are two excellent ones available, Avast and AVG. Pick one and download it and install it. Both are very good and highly recommended. They both offer automatic download of anti-virus updates. Microsoft also offers a free antivirus program and it is a good one. If you have confidence in them go to micosoft.com and download Microsoft Security Essentials.
Before you install any new antivirus software it is necessary for you to un-install your old antivirus software. It is inadvisable to have more than one antivirus program running on your PC. They may conflict with one another rendering both useless. Go to the Control Panel and choose Programs, UnInstall a Program (Add or Remove Programs on Windows XP). Very carefully choose the name of your antivirus program from the list and choose Uninstall. (If you have a Norton product installed see note below.)
So, out with the old and in with the new. And don't forget to register it after installation; they'll need only your name and email address. Be sure to choose the free option.
Oh, and watch closely during installation of your new software, the installer may offer to install a new browser program and/or internet search toolbar. Uncheck the boxes to avoid installing them; they will add no new functionality to your PC.
Remember, the time to check your antivirus software is before your subscription runs out and before you have problems. It's much more difficult and expensive afterwards.
CNET's Download.com
Avast Free Antivirus
AVG Anti-Virus Free Edition 2011
Microsoft Security Essentials
Note on uninstalling Norton products: Norton Antivirus and some other Norton security products are unique (in my experience) in that they almost always require the user to download an un-installer program from their website to remove their programs from the user's PC. Most software vendors include an un-installer along with the original installer program.
If you have a pre-installed Norton security product you wish to remove, first make a note of the product name and year of purchase (of the PC), then go to the Norton web site, specifically to the Norton Removal Tool Page. Select and download the appropriate un-installer for your particular product to your desktop and then double-click on it after the download completes to remove the Norton product from your PC. You must restart your PC to complete removal before installing your new software.
If your PC is acting glitchy or you have any questions about this article feel free to email me (just reply to this newsletter) or call me at 225-294-3683 after 2PM every day.
Plants on sale!
(When you come in for these sale items just tell us what you thought of our newsletter and we'll take an extra 10% off your purchase!)

*Roses (3gallon) - $11.99

*Boston Ferns very nice and full (10inch baskets - $10.99 only 30 left!)

*Trailing Vinca 4inch pots - $1.00
*Tibochina (1gallon) - $4.99 just starting to
bloom!

What we're growing
Fall Garden Mums (in 8inch and 10inch pots)
Available starting in late September. Colors - Yellow, Purple & White.

Fall bedding plants Available in late October
Pansy - Majestic Giant
Petunia – Dreams
Snapdragon – Snapshot

Fall vegetable plants – (In standard 6 packs) Available in early October.
Broccoli – Packman
Brussels Sprouts - Oliver
Cauliflower - Incline
Cabbage - Rio Verde, Early Jersey, Red Dynasty
Celery – Tall Utah
Collards - Georgia
Kale - Vates
Lettuce - Ithaca (head), Paris Island (Romaine), Buttercrunch & Red Sails (leaf)
Mustard – Southern Giant Curled
Spinach – Bloomsdale


Helpful Websites
Try these helpful and very useful websites. We will post a couple now and add to the list in the next editions of the newsletter.


LSU Agriculture Center - http://www.lsuagcenter.com/en/lawn_garden/

In Louisiana – Find an LSU Ag Extension County Agent Near You

Additional Information

Didn't like it? If you got this newsletter by mistake and don't want it or if you asked for it and are disappointed - we hope not - you may simply reply to this newsletter email with one word - UNSUBSCRIBE. That's it. We will take you off of our list immediately.

Liked it? However, if you liked it and wish to compliment, criticize or suggest, please feel free to do so. It's just as easy as unsubscribing. Just reply to this email with your helpful comments.

Have a question? If so and you would rather type it out and send it as an email to us feel free to do so. We will either respond with an email or a phone call to you with the answer, your choice.

Have a request? Want us to get a particular plant variety for you for the fall, winter, or spring? If you let us know ahead of time and it's available we'll be certain to get just what you want.

Thank You,
Chris and Gary Marmillion
Green Thumb Nursery

12188 Highway 22
Ponchatoula, LA 70454
225-294-5089
Copyright © 2011